Baldwinsville — Stop by the Hillview Coffeehouse for an evening of easy listening.
At 7 p.m. Saturday, Sept. 15, Alan Taylor will perform a variety of selections reflecting the styles of acoustic folk, traditional, easy listening and oldies music.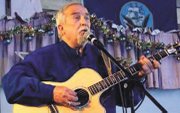 Conjuring up thoughts of a time when life was simpler and feelings somehow deeper, Taylor will perform timeless pieces from artists such as John Denver, Kingston Trio, Bill Staines, Peter, Paul & Mary, Tom Paxton, Gordon Lightfoot, Simon & Garfunkel, Bob Dylan and many more.
Alan Taylor delivers that vision with his warm, sincere style, accompanied by acoustic guitar and punctuated by good-natured humor. His musical presentation is designed to involve his audience in the overall entertainment experience. Come and spend a relaxing evening at the Hillview Coffeehouse, 7382 O'Brien Road, Baldwinsville.
Organizers ask the audience to bring non-perishable food items for the B'ville Food pantry as admission. The Hillview Coffeehouse is a local mission of the Hillview Community Church with two purposes: to provide non-perishable food items and to provide an affordable, family friendly entertainment venue. For more info, call 638-0357 or visit hillviewcoffeehouse.org.
Vote on this Story by clicking on the Icon