Last week marked the return of Cazenovia College students. Freshman were invited to the campus on Aug. 23, giving them a few days to assimilate to college life before returning students moved in Aug. 26 and classes officially begin Tuesday, Aug. 28.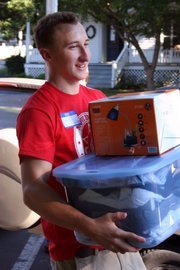 More than 300 incoming high school graduates, from 18 states across the country, compose this year's freshman class. Cazenovia College President Dr. Mark Tierno welcomed the new students and introduced himself during his speech at the traditional Academic Convocation on Aug. 23, and reminded them of what was now expected of them as students of the college and citizens of Cazenovia.
"Because you are an outstanding class, we expect the best from all of you. As students at Cazenovia College living right here in the village of Cazenovia, you are now an important part of an educational and living environment that influences all the other people who live, study and work here," Tierno said. "Cazenovia College is a community of scholars, citizens and friends. Each of us helps others as we work and learn together. So as we embark on this exciting new educational journey together, allow me to congratulate you on all that you have already achieved. Welcome to the road to a bright future … welcome to Cazenovia College."

In its 188th year of operation, the school has seen numerous alumni become well-known public figures in both New York state and the United States.
Graduates include Jesse Truesdell Peck, the founder and first president of the Syracuse University Board of Trustees; Charles Dudley Warner, the editor of the Courant in Hartford, Conn.; and actress/music producer Carole Cole, the adopted daughter of singer Nat King Cole.
Megan Sitarek, a senior interior design major at Cazenovia College, returned to campus last week full of excitement for the upcoming year, but conscious of the fact it will be her last as a student.
(Continued on Next Page)
Prev Next
Vote on this Story by clicking on the Icon