continued — The home was unveiled Monday morning, Aug. 20, and was featured on the national morning show "Fox & Friends." The once white, ranch-style house was transformed with stone veneer siding and the addition of a porch to replace the concrete steps that "should have been taped off, they were so dangerous," Dave joked.
The Peeks first heard about the contest from Michelle's mother, who is a faithful viewer of "Fox & Friends."
"We decided to go ahead and enter, not thinking in a million years anything would ever happen," Michelle said.
Dave and Michelle lived in the house with their son Nathan, 8, and daughter Sadie, 1, for the three weeks it took GAF and Ply Gem to re-do the exterior. Michelle, a stay-at-home mom, described the experience as "unreal."
"It was unbelievable for us," said Dave, who works as a software engineer. "It was just amazing being able to come home and still going to work every day, still having our daily lives unchanged, but coming back and seeing these changes, and knowing we would also be able to share our daughter's story."
Sarah Smiles
After Sarah died, the Peeks created the Sarah Smiles Annual PHun-Raiser for Pulmonary Hypertension both in her memory and to raise awareness, in order to help fulfill her wish of helping others with the disease.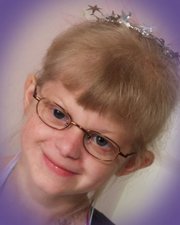 "She just loved life," her mom said. "She didn't let the disease get in her way, and she really wanted to help."
Her dad would like people to know that while the disease is somewhat uncommon, there are resources out there for those affected by it.
"Our daughter Sarah was diagnosed so late in the game, relatively speaking, and when she was diagnosed the original prognosis was just get your affairs together, she has six months, tops," he said. "And it wasn't until we found resources like the Pulmonary Hypertension Association and other specialists that all of the sudden we went from six months of a very bleak seeming lifestyle to five years … And they weren't just five years of her being sickly ill; they were full of smiles, laughter, and her fulfilling dreams. It added a lot, so much, to her life and our lives."
Vote on this Story by clicking on the Icon