Marcellus — Residents voted 153-84 in favor of the Marcellus Fire Department implementing a service award program for its firefighters during a referendum held yesterday from noon to 9 p.m. The program will allow volunteer firefighters to receive a yearly stipend of $700 for up to 40 years based on a 50-point system.
"We are very thankful to the community; we want to thank the people who voted yes," said Dave Card, assistant fire chief and chair of the reward program committee. "I'm very happy. We're all very pleased."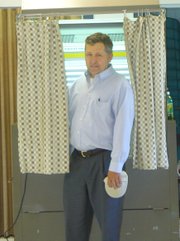 Marcellus Town Supervisor Dan Ross was also pleased with the results.
"It's been a good turnout," he said. "It's a great opportunity to develop the fire department for the future."
The passing of the reward program will allow the Marcellus Fire Department to better recruit and retain volunteers — as well as provide the community with more service.
"We're anxious to see what it does for recruitment. It's going to motivate the fire department because of all the support," said Marcellus Fire Chief John Rossiter.
Jim Rossiter, assistant fire chief, added: "Word will get out that we have this program. It's going to boost morale. We're pretty fortunate. I've been here for a long time and I'm glad to see it here".
The program will require a tax increase of $9 per $100,000 assessed property value the first year, and about $7 per $100,000 assessed value for each following year. Despite this, many voters are happy to help out the department.
Marcellus voter Chuck Paul said it's about time.
"It's been long overdue. The amount of money is low; the cost to tax payers is reasonable," he said. "They do so much for us, it's the least we can do to come out and support their retirement."
Voter Joe Gates agreed.
"We're supporting the Fire Department," he said. "They deserve it."
The next steps for the department are to finalize its investments and fine tune the rest of the program, as well as complete the necessary paperwork.
"We still need to discuss when the program is going to take effect," Card said.
But first and foremost, the Marcellus Fire Department wants to give a big thanks to the community for all their support.
Vote on this Story by clicking on the Icon