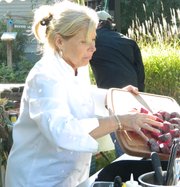 Marcellus — The second annual "envIRONmental CHEF homegrown" culinary competition has been announced for Sunday, Sept. 16, at Baltimore Woods Nature Center, with last year's winners taking on new challengers and a new dessert competition added to the event.
The competition celebrates the abundance of locally grown and produced foods in Central New York, and pits the area's finest chefs in head-to-head cook-off challenges that are tasted and decided by the audience.
"This event really works on so many levels. It's a powerful and important event for Baltimore Woods to be doing, and it's a real privilege to work with all the farmers and chefs and put them together for this competition," said Patty Weisse, Baltimore Woods executive director. "We are excited to see as much of the Central New York agricultural bounty turned into delicious things to eat in front of the audience."
The "envIRONmental CHEF homegrown" competition and fundraiser debuted last year by Baltimore Woods as a way to showcase locally grown foods cooked by regional chefs. Chefs Steve Landon, Farm to Table Chef (Skaneateles); Joelle Mollinger, Joelle's French Bistro (Skaneateles); Ellen Leahy, bc (Syracuse); and Alicyn Hart, Circa (Cazenovia), participated in the cook-off challenge, assisted by sous chefs drawn from patron ticket holders to the event. The 150 attendees last year tasted every dish and voted Mollinger and Leahy the winners.
For this year's competition, chefs Don Agate of The Krebs (Skaneateles) and Chris Kuhns of Phoebe's Restaurant (Syracuse) will challenge last year's champions. Like the 2011 competition, the chefs will create dishes using local ingredients and one mystery ingredient revealed at the start of the timed competition.
"I'm excited. I've done these kinds of competitions before and I love doing them. It gives chefs an opportunity to not only compete but to interact with each other," Agate said. "Whatever they throw at you, every chef has a go-to idea of what they do with different ingredients."
(Continued on Next Page)
Prev Next
Vote on this Story by clicking on the Icon