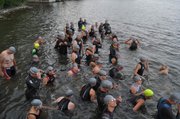 continued — The athletes are individually accounted for immediately before and after the swim leg of the race. Eleven lifeguards monitor the progress of the swimmers between those two points. Many of the lifeguards are in kayaks so that athletes who need to rest or cannot continue the race can hold on to the side. In its 12 years, there has never been a major safety issue in the Cazenovia Triathlon.
Preparation of the event began in January of this year, when the permits for the race were given. Just after that, the registration opened for athletes. This year, registration stayed open until the week leading up to the race itself. Austin said that in previous years the registration has closed in order to keep the number of athletes around 500. Were there more than 500 athletes, the race would not be feasible at its current location, Lakeside Park, and parking would become a burden for athletes and spectators.
The race was a success for the athletes involved, the spectators and the recipients of donations provided though the registration fees for the event. The Cazenovia Children's House and the Track and Cross Country teams at Cazenovia High School fundraised through the event.
Both organizations, as well as the CNY Triathlon Club, provided volunteers for the race.
Terence Hartnett is a freelance journalist for Eagle Newspapers and a graduate of Cazenovia High School and St. Bonaventure University. He can be reached at hartnetc@bonaventure.edu.
Vote on this Story by clicking on the Icon