continued — Investment will lead to job growth, he said.
"What we need to do is create jobs," he said. "If everyone can have a job I truly believe that we will see a real renaissance here in Central New York."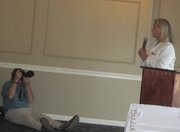 Buerkle followed, and turned the focus of the discussion to the veterans in attendance. She is endorsed by the Republican, Conservative and Independence parties, and just received the endorsement of the Onondaga County Veterans Party.
"Let's begin today by acknowledging the veterans in this room," she said. "The United States of America is the greatest nation in the history of the world, and that's because of the service and the sacrifice of the men and women who serve our nation."
She spoke of this election cycle being about "two very different visions for the U.S.A."
"There are those of us who believe that the greatness of this nation is not with the federal government, it is with the individual," she said. "It is with the people in this room who had a dream, the courage and energy, and the willingness to work hard to grow that dream. And the best thing to do for this economy is to get the government out of the way."
Like Maffei, she talked about the difficulty of running a small business in Central New York, but focused on uncertainties business owners face over new regulations, taxes and how the Affordable Care Act is going to affect them.
"So the best thing we can do as a federal government is to create certainty for our businesses. Send them a message that our small businesses are the backbone of our economy, they are the solution … and get the government out of your way," she said. "And that's how we'll get the American people back to work. That's how we'll get Upstate New York back to work."
Vote on this Story by clicking on the Icon