Manlius Town Supervisor Ed Theobald was appointed by Gov. Andrew Cuomo as a member of the New York State Law Enforcement Agency Accreditation Council on July 3.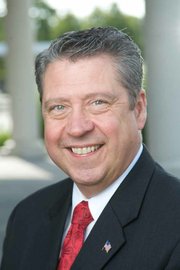 The accreditation council provides overall direction and consists of 17 members appointed by the governor. The council meets quarterly and issues standards, sets policy and has exclusive authority to grant accreditation status.
Members include representatives from the state chiefs' and sheriffs' associations, the superintendent of State Police, the commissioner of the New Your City Police Department, an official of statewide police labor organization, an incumbent police officer, a deputy sheriff and a college professor of criminal justice. Other members represent the Association of Counties, the Association of Towns, the Conference of Mayors, the New York State Senate and the Assembly.
The term is for two years and expires in April 2014.
Vote on this Story by clicking on the Icon