There's nothing quite like seeing a movie at the Manlius Art Cinema.
The theater is unique in many ways, all of which contribute to the experience of seeing a film there being just that — an experience.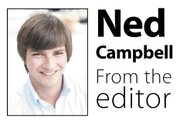 The theater, located on East Seneca Street in the village of Manlius, is small, even for a one-room cinema, and notably narrow, making it impossible not to feel closely connected to the audience around you. And it's old, too — it was built in 1918 to show silent films.
But what truly makes the experience of seeing a movie at the Manlius Art Cinema has little to do with the theater itself, and everything to do with the man in charge of it.
Before every film shown at the Manlius Art Cinema, owner Nat Tobin stands at the front of theater and introduces the present attraction. He usually lists some awards the film has won at festivals like Sundance and Cannes, says how it has done in other cities, and offers a bit of insight into the film's makeup before closing with some version of the classic line, "enjoy the show."
For me, this has always been the best part. Hearing a review from a guy like Nat, someone genuinely interested in film and in sharing that interest with the community, sure beats sifting through hundreds of reviews available online through sites like the Internet Movie Database and Rotten Tomatoes.
My latest trip to the Manlius Art Cinema did not disappoint, and Nat's introduction seemed especially stellar this time around.
I was there last weekend to see Nat's latest selection, "Beasts of the Southern Wild," with my girlfriend, Meg. It was our second trip to the cinema in two months, having seen Wes Anderson's "Moonrise Kingdom" earlier this summer. I knew little about the film, other than what I'd seen in the trailer aired prior to "Moonrise Kingdom" — that it was playing at the Manlius Art Cinema was enough to convince me it was worth checking out.
(Continued on Next Page)
Prev Next
Vote on this Story by clicking on the Icon