Baldwinsville — The Rotary Club of Baldwinsville has installed a new sidewalk at the Lysander Town Park. The grass seed still needs to grow, but the path is now open to help park-goers reach the pavilion without having to trek through the lawn; all thanks to the help of a grant, the town and club members sweat and shovels.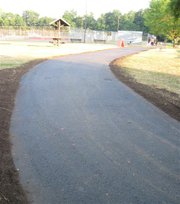 In 1988, the club paid for and labored over putting a pavilion at Lysander Park. Since then it has gotten plenty of use and even an upgrade in 2006, with sides added to protect visitors from the elements. This year, the club decided it needed another upgrade to connect it with the existing sidewalks and sought funding to do it from their Rotary district.
The Baldwinsville club is one of more than 40 clubs that comprise District 7150, spanning from Auburn to Rome, and is one of more than 33,000 clubs that make up Rotary International. Whenever clubs or individual Rotarians from the district make charitable donations to the Rotary International Foundation they are setting themselves up for grant opportunities. The RI Foundation holds the money for three years, accumulating interest to grow the foundation, and then returns the same amount of funds right back to the district. Clubs can then apply to receive these funds in the form of a District Simplified Grant to help them pay for a new project their club wants to complete. Baldwinsville Rotarian Ann Smiley applied for a grant for this project because it fits the criteria of being a new project the club has not done before, it serves the community and will involve hands-on work from club members.
"The new path should make the pavilion more accessible for the handicapped and we hope our continued upgrades to the pavilion show the community our Rotary club's commitment to service," Smiley said. "Baldwinsville area residents support our fundraising efforts at spaghetti dinners and Seneca River Days. This is just one of the many ways we spend what we raise and give back."
(Continued on Next Page)
Prev Next
Vote on this Story by clicking on the Icon