Fayetteville — A Fayetteville man has been charged in connection with two recent bank robberies in the town of Manlius.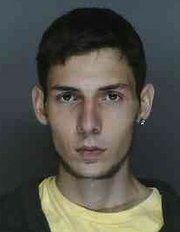 Ajdin Catal, 19, of 409 Cleveland Blvd., was arrested this morning by Manlius Police and charged with two counts of third-degree robbery, a class D felony, third-degree grand larceny and fourth-degree grand larceny. He is accused of robbing the SECNY Federal Credit Union in the village of Manlius Friday and the M&T Bank in the village of Fayetteville on Saturday.
Catal was arraigned before Manlius Village Justice Joseph Greenman and remanded to the Justice Center in lieu of $10,000 cash or $20,000 bail bond. He is scheduled to appear in Manlius Village Court at 6 p.m. Aug. 16 and in Fayetteville Village Court at 4:30 p.m. Aug. 14.
Manlius Police were assisted by Syracuse Police as well as the Onondaga County Sherriff's Department in tracking down the vehicle involved in the M&T Bank robbery.
Manlius Police continue to investigate. Anyone with information relating to either of the two robberies is asked to call 682-2212.
Vote on this Story by clicking on the Icon