Fayetteville — Hayden Wall, 8, of Fayetteville, will be featured on the cover of Parenting Magazine School Years, which has a readership of over half a million nationwide. Out of approximately 34,000 entries from around the country, ages 5-12, Wall has been selected as the winner of Parenting Magazine's "Make My Kid a Model" cover contest. He was also awarded a one-year modeling contract with world-renowned Ford Models for print work.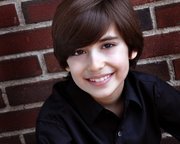 Since entering the contest, Hayden has signed with the Carson-Adler Agency Inc. in Manhattan, which was instrumental in guiding the early careers of entertainers such as Britney Spears, Matt Damon, Ben Affleck, Miscia Barton and Cynthia Nixon to name a few. Wall has also spent the summer auditioning for several Broadway productions and feature films. He has been called back for some and is currently waiting to hear about a role in Broadway's production of "A Christmas Story".
The September issue of "Parenting Magazine" School Years will be available Aug. 28. Wall is hoping this is the beginning of a lifelong career.
"When Hayden was three years old, he told me he wanted to be a famous movie star," said Juliet Wall, Hayden's mother.
It appears his dream may just be coming true.
Vote on this Story by clicking on the Icon