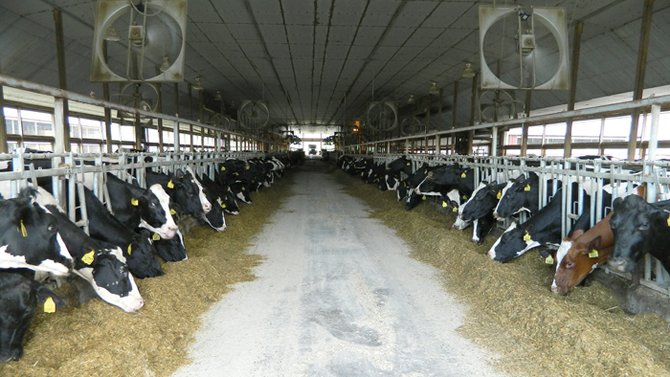 continued — "Twin Birch was first farm in Skaneateles Lake Watershed (and one of first in the surrounding region if not the first) to take the plunge and invest in a manure digester," said Mark E. Burger, executive director of the Onondaga County Soil and Water Conservation District and program manager for the Skaneateles Lake Watershed Agricultural Program. "The anaerobic digester helps agriculture because the farm addressed many issues that impact water quality/environment and can create difficult neighbor relations. And, the anaerobic digester on the farm has successfully demonstrated another Best Management Practice that can help to address compliance with environmental regulations and issues in the community."
But for the new electric generator at Twin Birch, the most important byproduct of the anaerobic digestion is the methane. The methane rises to the top of the vat and is pumped over to the biogas generator, where it is then converted to electricity and any excess is cleanly burned.
The system, built by American Biogas Company of Syracuse, generates 125 kilowatts of electricity per hour, or enough to power 170 homes for a day. This produces enough energy to power all the barns, houses and satellite facilities at Twin Birch. Technically though, the power generated does not go to Twin Birch but goes into the local National Grid power grid, and Twin Birch then receives credits for what it generated.
The new biogas system typically costs more than $1 million to create, but Twin Birch spent between $500,000 and $750,000 because many of the components were already in place and thanks to the help of two grants from the New York State Energy Research and Development Authority.
"One of the most impressive components [of the Twin Birch digester] was that the farm committed a lot of their own resources, financial and otherwise, to get this digester up and running. This system was not without heartache, difficulty or complications, but Twin Birch had the foresight to see it through," Burger said. "One of the best points is that the farm has always been very open to host tours and participate in research so that other agricultural producers in the industry, as well as community members, could see what and how they are doing anaerobic digestion and how other farms can use that technology to advance their position in the industry."
On Tuesday, Aug. 21, NYSERDA will hold a ceremony at Twin Birch Farm to celebrate and recognize its achievement in utilizing biogas technology. Multiple state officials have been invited to attend, including Congresswoman Ann Marie Buerkle.
"We're very pleased we took on this project and to have worked with a local company like American Biogas," McGlynn said. "This has been a real success story. This works."
Jason Emerson is editor of the Skaneateles Press. He can be reached at editor@kaneatelespress.com.
Vote on this Story by clicking on the Icon