Camillus — On July 21, the Camillus Canal Society dedicated two large limestone monuments, originally used on the canal, containing bronze plaques recognizing the efforts of those who were responsible in funding and providing support to the 1842 Nine Mile Creek Aqueduct restoration project.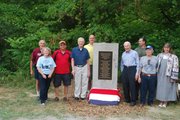 Members of the planning committee were: Dave Suarez of Global Landscapes, Ed Morgan, Fred Cossick, Fran Ezzo, Clyde Ohl, Gary Tyler, Dick Grobsmith, and Liz and Dave Beebe. Ed Morgan designed and constructed the bases to support the monuments.
Bob Welch, local mason and stone cutter, cut the recesses in the limestone blocks to receive the heavy cast plaques. He secured them with epoxy. With his hydraulic crane truck he transported the stones to the aqueduct site and lifted then in place.
In recognition of his efforts, a special plaque will be installed on the Aqueduct honoring retired Congressman Jim Walsh.
Vote on this Story by clicking on the Icon