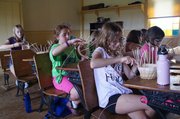 continued — Local resident Bonnie Slocum showed the students how to weave wicker baskets on Wednesday, Aug. 1, and a representative from Carrol Teitsworth Liberty Balloons exhibited his 19th century hot-air balloon for the group on Aug. 3.
Emerson said Lorenzo coordinators are considering turning the camp into a two-week program next year, adding themes in late-19th century art and science while possibly increasing the size of the student body.
"In 1997, The Friends of Lorenzo and the Cazenovia community came together to raise funds to move and restore the Rippleton Schoolhouse to the Lorenzo site. Sarah Auchincloss had generously donated the building to New York state. Since that time, school groups have been visiting the schoolhouse throughout the academic year — and we are pleased that our summer camp is now in its eighth year running," said Lorenzo State Historic Site Director Barbara Bartlett. "Our first camp schoolmarm was Casey Frazee, then Barbara Cook ran the program for three years, and now Kathleen Emerson is placing her own stamp on the program. The campers receive an educationally fun-filled week, so it has been gratifying to see how history can be brought to life for such energetic 8- to11-year-olds."
Emerson, who is the wife of independent historian and Skaneateles Press Editor Jason Emerson, currently teaches fifth grade at Chittenango Middle School, and once served as a potter at the Genesee Country Museum.
For more information on the Lorenzo State Historic Site, call 655-3200 or visit lorenzoNY.org.
Pierce Smith is editor of the Cazenovia Republican. He can be reached at 434-8889 ext. 338 or editor@cazenoviarepublican.com.
Vote on this Story by clicking on the Icon