Also present at the meeting was the brewery's director of brewing operations and facilities manager, as well as the company's attorney and chosen architect Kurt Ofer – who helped design the acclaimed Ommegang Brewery in Cooperstown.
The group fielded community members' questions, regarding wastewater amounts and removal, as well as exterior design and site plan. The representatives assured the board members and public that the quantity of waste created will be well under the maximum amounts permitted, and some of the byproducts such as "spent grain" are in high demand as feed for farm animals.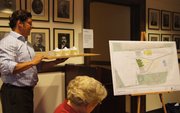 According to Ofer, the main structure and hop barns will create a "sawtooth" design, and add an important economic asset to the community. "I don't think there is a brewery out there that looks like it is truly operating and harvesting … when guests drive up," he said. "I think putting all the facets into one visitor experience will add an incredible amount of value, both to them and to the community."
The building would be accented with solar panels and house a new brewery and tasting room, as well as a gift shop and production center. Visitor and employee parking area will be hidden from view and link to the Cazenovia Preservation Foundation's Burlingame Trail system, which runs behind the parcel.
Katleski said he would ideally like to break ground on the project by spring 2013 and open to the public by that fall, employing about 75 workers.
After short discussion amongst town councilors and village trustees, the two boards unanimously named the village of Cazenovia as the lead agency, and declared the project would be a Type I action, according to State Environmental Quality Review. As the potential environmental impacts are evaluated, the boards will soon decide whether to move forward with the proposal and approve annexation.
Pierce Smith is editor of the Cazenovia Republican. He can be reached at 434-8889 ext. 338 or editor@cazenoviarepublican.com.
Vote on this Story by clicking on the Icon