Cazenovia — Parking is about to get a little easier in the village of Cazenovia. In response to a community survey conducted last winter which identified a lack of parking as the number one concern among residents, the village has dramatically expanded the quantity and quality of free public parking located behind the Cazenovia Public Library.
Approximately 130 spaces will now be available to serve library patrons, visitors to the Historic Cazenovia Business District, workers needing all-day parking or tenants seeking overnight parking.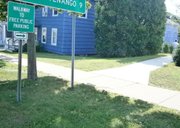 Village crews have been working for the past two weeks to expand the lot and improve its surface. Both the upper and lower areas were graded and the irregular slope dividing them was compressed to expand the usable area.
Additional space was reclaimed by removing years of weed and brush growth and pushing back some of the banks along the edges of the lot. Crushed stone was packed down to provide a smoother surface and grass mesh was added to stabilize banks. A temporary fence currently divides the upper and lower areas and markers to delineate spaces and driving lanes will soon be added. Stairs from the upper to lower lots are also planned.
After 40 years of studies and surveys confirming the parking problem in the village, the Cazenovia Village Board of Trustees sought a first step that would be cost-effective but make a significant impact while long-term options for Riverside Drive are explored. Village leaders plan to study usage patterns of the Riverside lot to help determine the optimum configuration when the site is ultimately redeveloped and paved. Meanwhile, the recent improvements which have more than doubled the number of spaces available will provide relief to four major categories of people seeking parking.
The upper lot, immediately behind the public library, will be designated for free use by library patrons and visitors to the downtown area who need more than the two hours allowed in most on-street spots. The lower area will be designated for use by local workers and others who require all-day parking. Workers parking in two-hour parking and "rolling" their car to avoid tickets has been identified as a significant cause for the shortage of spaces near Cazenovia businesses.
(Continued on Next Page)
Prev Next
Vote on this Story by clicking on the Icon