Baldwinsville — Lindalee, David and Dennis Sawyer are pleased to announce the 50th wedding anniversary of their parents, Bill and Pat Sawyer of Phoenix, former Maple Road, Baldwinsville residents.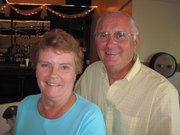 The couple celebrated their 50th wedding anniversary on June 2. There was an anniversary party in their honor at The Oasis at Thunder Island on June 17 with family members, high school friends and close friends.
Bill and Pat met each other at Phillips Street School in Fulton and were sweethearts all through high school at Oswego Catholic High graduating in 1960. They were married at Holy Family Church, Fulton on June 2, 1962. Bill retired from the New York Army National Guard with 34 years of service, while Pat retired from Marine Midland bank.
They have two daughters-in-law, Cheryl Flegal- Sawyer and Jennifer Frey-Sawyer, and two granddaughters, Alaina and Elizabeth Sawyer. Bill and Pat enjoy their house along the Oswego River as well as going to Florida during the winter. Their children sent them on a second honeymoon, which they thoroughly enjoyed.
Vote on this Story by clicking on the Icon