The Annual Peterboro Hometown Day opens at 10 a.m. on Sunday, Aug. 5 with many activities on the green in Peterboro. Field activities conclude at 4 p.m. followed by a concert with pie and ice cream at 7 p.m.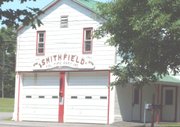 The first scheduled activity is the Sack Race at 11 a.m. followed at noon with the Smithfield Volunteer Fire Department chicken barbeque. The Crystal Kay Dancers perform at noon. At 1 p.m., Tom Lemery will present a Comedy Hour, and a Frog Jumping Contest will be held at 2 p.m. A bounce house, dunking booth, children's games, crafters, exhibits, a fish pond, Peterboro Conservation Club exhibit, Peterboro United Methodist Church candy sale, Smithfield Community Association exhibit, numerous vendors and more will be "on the green" throughout the day.
The Gerrit Smith Estate National Historic Landmark, the National Abolition Hall of Fame, and the Peterboro Area Museum will be open from 1 a.m. to 4 p.m. Croquet courts will be open at the Gerrit Smith Estate. The Deli on the Green will be offering an expanded menu.
The Canastota Community Band will perform a summer concert at 7 p.m. in front of the Peterboro Area Museum. The Peterboro United Methodist Church will be selling pie and ice cream at the concert.
The annual event is sponsored by the Smithfield Volunteer Fire Department. The Green in the Hamlet of Peterboro is at the intersection of Oxbow Road, Peterboro Road, Pleasant Valley Road and Swamp Road. Admission and parking are free. For more information, contact Crystal Farrar at 684-3262.
Dot Willsey is publicist for the National Abolition Hall of Fame in Peterboro. She can be reached at 684-3262 or dwillsey@twcny.rr.com.
Vote on this Story by clicking on the Icon