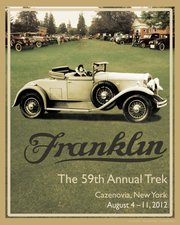 continued — "As the Franklin drivers were planning their week here, they came to us and asked if there was an entity in Cazenovia that would allow them to make non-perishable donations to the community — and we immediately thought of CazCares," said Wayne Westervelt, chairman of the GCACC Franklin Trek Committee and director of communications at Cazenovia College. "It's a great event. It gives the residents of our community an opportunity to come down to the quad to look at the cars and talk with the Franklin drivers; it's definitely a reunion of sorts. [Making charitable donations] was really the drivers' idea, we're excited to have them in our community, spending some money here and becoming part of our community in some ways; but, when they come up with an idea like this, it's really great. It's a win-win."
Each year, a new poster is designed for the week-long event, and Westervelt said this year is no different. He said a Cazenovia College visual communications student designed this 2012 event poster, having drawn inspiration from a photo snapped by Gene Gissin during a previous Franklin Trek.
More information on the Franklin Trek can be found at franklincar.org and cazenoviachamber.com.
To learn more about the event, call 655-9243 or email info@cazenovia.com.
Pierce Smith is editor of the Cazenovia Republican. He can be reached at 434-8889 ext. 338 or editor@cazenoviarepublican.com. Additional reporting was done by Wayne Westervelt.
Vote on this Story by clicking on the Icon