Skaneateles — Skaneateles Village Police Chief Lloyd Perkins intends to retire at the end of the year, he told the village board of trustees at its April 26 meeting.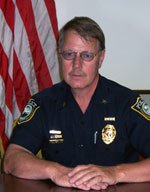 Perkins urged the board to create a succession committee to ensure the transition to a new chief goes smoothly. He also recommended that Skaneateles Police Sgt. Martin Stevens be considered for the job.
"It's just because it's time," Perkins said of his intended retirement. "I've been in the police business since 1969. The seven years I have been here [in Skaneateles] has been a great experience for me."
Perkins said that when he was hired to become chief of Skaneateles department, he was tasked with preparing a succession policy that would also promote from within the department. He has done that, and also urged Mayor Marty Hubbard to appoint a committee to work with him and the department to find and hire the next chief.
"Sgt. Stevens is a good guy, he wants the job, and I highly recommend that the board consider him," Perkins said.
Perkins said his retirement will not become effective until October at the earliest, but probably more like the turn of the year.
"In my opinion, it's not professional to just give your two weeks' notice as a police chief," he said.
The village board thanked Perkins for giving them time to consider and create the process for hiring his successor.
The Skaneateles Press will have an in-depth profile of Perkins and his time as chief of the Skaneateles Police Department in next week's issue.
Jason Emerson is editor of the Skaneateles Press. He can be reached at editor@skaneatelespress.com.
Vote on this Story by clicking on the Icon