Manlius — Fayetteville-Manlius High School Principal Raymond Kilmer has been named the 2012 Empire State Supervisors and Administrators Association's Administrator of the Year for Region 8, which includes 25 school districts in Central New York.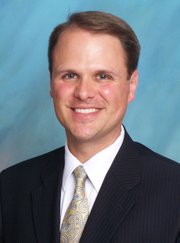 "I am truly honored to receive this award, which represents the hard work of everyone at the high school, including the students and their parents," Kilmer said. "It is because of the strong and supportive team we have in place that I am able to effectively do my job. I am so proud to be part of the Fayetteville-Manlius community."
The Empire State Supervisors and Administrators Association is an association that supports and advocates for public school leaders. It is made up of 11 regions across the state, and Fayetteville-Manlius is part of Region 8, which has about 277 individual members.
The annual award is given to a public school leader whose leadership skills and curricular vision supports student achievements and a positive learning environment. Kilmer will receive his award June 1 at the ESAA's executive board meeting in Canandaigua.
Kilmer's ability to relate to a wide range of constituencies – students, their parents and staff members – made him stand out as a candidate, said Henry Frasca, president of the Central New York School Supervisors and Administrator's Association (Region 8) and vice president of the statewide organization.
A candidate's interpersonal skills weighed heavily in the decision making process, Frasca said.
"Our business is we deal with people," he said. "It's really about that person and how they deal with people."
Kilmer, 36, of Manlius, is completing his second year as principal of F-M High School. He served as an assistant principal at the high school from 2007 to 2010 and taught social studies there from 2001 through 2007.
F-M High School Associate Principal Greg Avellino nominated Mr. Kilmer for the award.
(Continued on Next Page)
Prev Next
Vote on this Story by clicking on the Icon