Manlius — A 23-year-old Jamesville man has been charged in the case of seven broken swan eggs in Manlius over the weekend.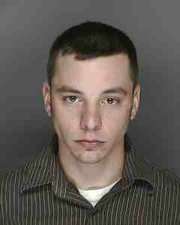 Manlius Police have charged Ross Leone, 23, with fourth-degree criminal mischief, petit larceny, third-degree criminal trespass, fifth-degree criminal possession of stolen property and interference with fish and wildlife. All are misdemeanors, except for the interference charge, which is a violation.
Manlius Police Sgt. Joe Peters says Leone was charged after information was developed that brought police to the Jamesville man. He turned himself in to Manlius Police with his attorney, William Sullivan, just before noon Wednesday.
Police allege Leone removed the eggs sometime overnight Saturday or early Sunday morning. Seven of the eight eggs were destroyed. The eggs were taken from the nest and thrown or dropped near a wall outside Buffoon's Bar, at the corner of routes 92 and 173. The eighth was left near the nest and taken to an incubator by a swan expert but the embryo did not have a heartbeat.
The charges were levied against Leone based on consultations with the District Attorney's Office, Peters said. Leone is believed to have had, at one time, the eggs in his possession, resulting in the stolen property charge, Peters said.
Leone was remanded to the Onondaga County Justice Center in lieu of $1,500 bail and is due back in court at 7 p.m., June 7.
Vote on this Story by clicking on the Icon