Vocalist Catherine Russell possesses one of the most impressive pedigrees in jazz.
Her papa played piano for Louis Armstrong. Her mama played guitar for the International Sweethearts of Rhythm and later developed into one of Manhattan's top lady bassists.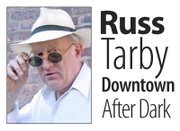 Hot jazz flows freely in Cat Russell's veins.
While she willingly embraces her rich jazz legacy, however, Cat Russell calls herself a singer, not a jazz singer.
Avoiding the J word
"Jazz is such a big word," she told me in a telephone interview. "You can call something whatever you want to call it, but what counts is that it's people-friendly. In my shows, I'm inviting you as a guest. You've come to listen to me sing, and I want to share myself with you."
Similarly, Cat strives to choose material to which audiences can relate.
"I ask myself, 'Do I like it? Is it fun? Does it make me smile? Do I want to hear it again?…I like songs that have universal appeal."
Regardless of how she may feel about the J-word, she echoes the sounds of New Orleans in tunes such as "Everybody Loves My Baby" on her new disc, "Strictly Romancin.'" You hear the blues loud and clear on "Romance in the Dark," and you hear a hint of classic jazz singers Billie Holiday and Lena Horne on the disc-opener "Under the Spell of the Blues."
In early-March "Strictly Romancin'" was listed as the No. 1 disc by JazzWeek, considered the definitive national radio chart for – that's right – jazz.
Appreciating the J word
When she last performed here in 2009, Russell pleased her audience with renditions of Billie Holiday's "Them There Eyes," Pearl Bailey's "I'm Lazy, That's All" and Bessie Smith's comical "Kitchen Man."
This weekend you can hear barrelhouse piano care of Mark Shane and banjo magic from guitarist Mike Munisteri, who will accompany her here along with bassist Lee Hudson when Cat takes the stage at 7 p.m. Saturday April 28, at the Palace Theater, 2384 James St., in Eastwood. Tickets cost $20; 443-4834.
(Continued on Next Page)
Prev Next
Vote on this Story by clicking on the Icon