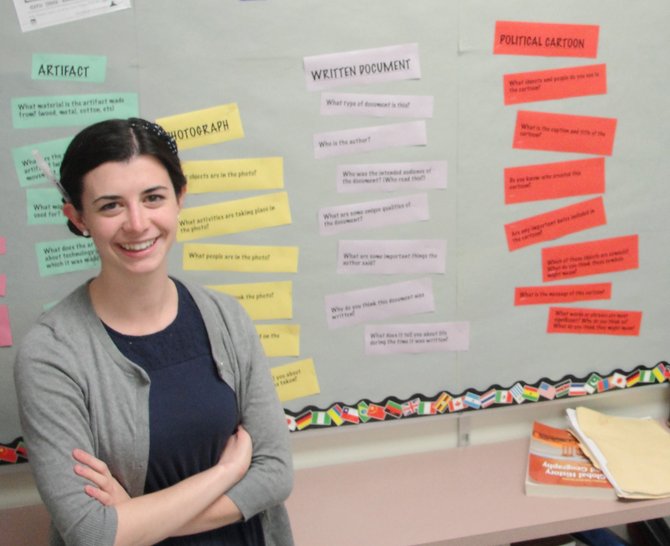 continued — Two former students, freshmen Nafisa Ibrahim and Kate Sullivan, publicly addressed board of education members during the April 2 budget work session. The two girls professed Lonergan has been an instrumental part of their education, motivating them to do well on a daily basis.
"Finding that [Lonergan might have been cut] gave me a huge reality check, it made me really grasp what a difference she has made in my life. Ms. Longeran has been the best teacher I have had so far," Ibrahim said. "Her passion for teaching has really affected my learning, and I have had nothing but great experiences in her class. She gets the class very motivated and she truly makes me look forward to global studies."
"She has always been one of those teachers who you have a special bond with. She has taught me not only social studies, but how to write a good essay. Watching her position being put on the line was something I could not simply sit back and watch," Sullivan said. "I knew I had to take action … [She is] not only an amazing teacher with a ton of energy in the classroom, but a teacher I can trust and know that she can always help me. She goes out of her way to make time for me and my classmates, and going into [exams] I feel very confident thanks to her."
While Lonergan's dedication and enthusiasm is evident in the websites she made for each of her classes, students and fellow teachers say her work as an AIS instructor has been one of the most important duties she handles each day. Hoping to take a proactive approach toward pupils with wavering test scores, Lonergan meets with students one-on-one, and in small groups, to help them better understand difficult social studies concepts. Without her specialized assistance, the district would be unable to achieve such high passing percentages on state examinations.
Vote on this Story by clicking on the Icon