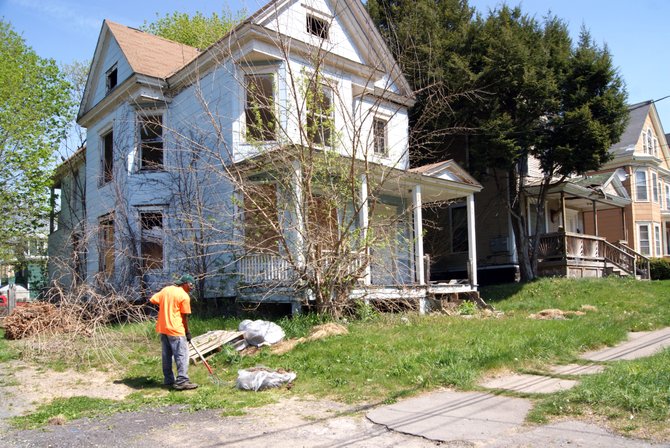 continued — Add that to the labor hours spent by the city mowing lawns and the seasonal upkeep on the unoccupied lots is becoming one of the biggest price tags on vacant homes for city taxpayers. City employees can't do all of the work, Driscoll said, requiring a contract with a local landscaping company to finish the lawn work on the rest of the homes. That comes at a tune of $230,000 a year. City employees mow about 2,100 lawns a year. An additional 6,500 are contracted out, Driscoll said.
"Our city employees can only do so much," she said.
The city has an additional $1,000,000 earmarked in the annual budget to demolish dangerous homes, as well. If a building is unsafe to enter, or has deteriorated so much so that it is unsafe to continue to stand, the city can get a court order to demolish the home.
The city will step in when the owner either refuses to demolish the building or can't be located. The cost of that demolition is added to the owner's property tax bill, recouping some of the costs. Many of the owners of vacant homes are delinquent in taxes, however.
"When the floors are falling in, it's not the safest place for people to be in, or for police officers to be chasing people through," said Syracuse Police Lt. Richard Shoff, of the community policing division.
Vacant Properties in the city of Syracuse
Commercial 184
Community Services 4
Industrial 9
Recreation 1
Religious 8
Schools 1
Single-family 895
Two-family 546
Three-family 91
Multiple Residence 30
Apartment buildings 98
TOTAL 1,648
Empty homes spurs criminal activity
The crime rate surrounding vacant homes is only increasing, too.
"When these properties are abandoned, they become more appealing for criminal activity," she said.
There are plenty of costs associated with the police department in regards to vacant homes, too.
Vote on this Story by clicking on the Icon