Manlius — Manlius Police are looking for the person, or people, who took seven swan eggs from the Manlius Swan Pond and destroyed them.
Police say the suspect removed the eggs sometime overnight Saturday or early Sunday morning. All but one were destroyed. The eggs were taken from the nest and thrown against a wall near a local tavern, said Mayor Mark-Paul Serafin.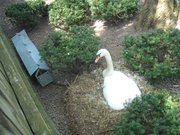 "We initially thought it was a natural predator," he said. "But raccoons don't do that."
The swans had produced eight eggs. The eggs, expected to hatch in mid-May, would have been the first to hatch in the village's iconic Swan Pond in eight years.
"It's a distressing situation for the village," Serafin said. "It's disheartening."
The swans, Manny and Faye, were given to the village by Michael Bean of Skaneateles. The babies were expected to be given to him once they hatched.
The one egg has been taken by Bean to be put in an incubator. He will check today to see if the embryo has a heartbeat.
The silver lining, Serafin said, is that it is early in the swan mating season. Faye could lay another set of eggs. If she does, it has been advised by Bean to create a floating nest platform to keep the swans and the eggs safe.
Whoever is responsible for the eggs could face criminal mischief charges, as well as additional repercussions from the Department of Environmental Conservation.
"There will be repercussions and consequences for this," Serafin said.
Anyone with information about the destruction of the swan eggs is asked to call the Manlius Police Department at 682-2212 or on the tip line at 682-TMPD (8673.)
Vote on this Story by clicking on the Icon