Cazenovia College is currently in the midst of presenting its spring theatre production, "Our Town," by Thornton Wilder, at the Catherine Cummings Theatre.
Produced by Colleen Prossner, along with artist-in-residence Director David Lowenstein, the play was shown multiple times over the weekend of April 14, and will be presented again April 20, 21 and 22.
"I love being artist-in-residence at Cazenovia College," said Lowenstein. "I am afforded the freedom to create classes and choose shows that fit the mission to use the theatre as a bridge to the community as well as a creative place for students to discover and grow."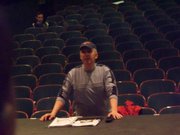 A graduate of the Syracuse University Musical Theater program, Lowenstein moved to New York City, working in national touring productions for five years before his first Broadway show, "Jerome Robbins' Broadway."
After 17 years and six more Broadway shows, including "1776," "Seussical" and "The Frogs," he and his partner, Alfonso Annotto, left the big city life.
"I moved to Cazenovia to raise our two boys in a country town with a great school system," Lowenstein said. "I am so lucky to live in this town with my family. Directing "Our Town" now allows me to celebrate 'small town life' in 2012 by reflecting on [what] a town just like Cazenovia might have been [like] in 1901. At the same time, the cast and I are discovering how close this play represents the town we live in now."
A distinguished author, internationally famous playwright and novelist and American icon, Wilder was awarded a Pulitzer Prize for "Our Town" in 1938.
"I have been wanting to tackle 'Our Town' since I was hired but waited until I felt ready and had a better handle on the workings of this space," Lowenstein said. "It is our first crack at a true classic. When I re-read it, now being a parent and living here in Cazenovia, I discovered its beauty, depth of emotion and darkness. The themes are as relevant today as they were in 1938, a world looking at war, society moving too fast to recognize and appreciate life and familial relationships taken for granted until it's too late."
Tickets are on sale at Cazenovia Jewelry and are $10 for adults; $5 for those ages 18 and under and $3 for Caz College students. They can also be reserved at 655-STAR (7827) or may be purchased at the door.
Willie Kiernan is a contributing writer at Eagle Newspapers. He can be reached at cazindependent@gmail.com.
Vote on this Story by clicking on the Icon