Cazenovia — How people cope with emotional issues at their jobs will be the topic of the next Cazenovia Forum lecture.
Author Anne Kreamer will discuss her latest book, "It's Always Personal: Emotion in the New Workplace," at 7 p.m. on Friday, May 4, in Cazenovia College's Catherine Cummings Theatre on Lincklaen Street.
The event is free of charge and no reservations are required. A reception will follow the talk.
To research her book, Kreamer spent two years travelling around the country speaking with experts and working Americans about the feelings and emotions that people experience at their jobs.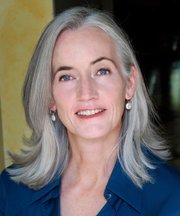 "I made a lot of discoveries, such as the fact that a lot more men cry on the job than you'd think, saleswomen make more money during the ovulation phase of their cycles and the cultivation of positive emotions isn't some Pollyanna myth but a scientifically proven tool to better health and problem solving," Kreamer said. "Indeed, the more of your authentic emotional self you bring to work [the] happier and more effective you will be."
Kreamer is also the author of the book, "Going Gray: What I Learned About Beauty, Sex, Work, Motherhood, Authenticity and Everything Else That Really Matters," which she developed from a feature she did for "More" magazine about the process, when she was 49, of letting her hair grow out to show her natural gray. In it, she skillfully uses the experience to explore thoughts about aging and femininity.
Her upcoming book, "Plan C," is about the unprecedented professional adaptability required of everyone in the 21st century.
Kreamer has worked as a columnist for "Fast Company" and "Martha Stewart Living," and is a frequent blogger on HBR.org.
Previously, she was executive vice president and worldwide creative director for the television channels Nickelodeon and Nick at Nite.
She holds a degree from Harvard College and lives in Brooklyn with her husband and two daughters.
The Cazenovia Forum is a not-for-profit organization established in 2006 by community members focused on promoting the understanding and discussion of national and international issues.
By organizing and underwriting lecture events featuring nationally-known experts, the group intends to further Cazenovia's commitment to knowledge-seeking and community involvement.
Vote on this Story by clicking on the Icon