SYRACUSE — When this story hits the newsstands, Steve Susman will be living it up in Italy — Venice to be exact.
Maybe he'll think about his life accomplishments in his lengthy professional career, or maybe he'll ponder the next step in his life. Or maybe, just maybe, he'll reminisce about the time he got to jam with Bob Dylan in Manhattan.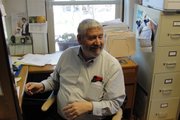 In the early 1960s, Susman was a guitarist and banjo player in a band known as the Trevone Marching Jug and Shuffle Band, which took influence from the folk music that was popular at the time. Susman said it wasn't a serious venture, but rather an outlet for some of his creative juices.
In 1963, he says, his band, which "usually cleaned up" (meaning they played at the very end of the bill after the more popular bands) was readying for a gig in the village in Manhattan. After a few mildly successful performances in Washington Square Park, Susman said this was a step up for the group. The band needed a place to rehearse while the other groups on the bill were performing, so they went to the basement of the club to set up.
There, standing with guitar in hand, was a man who would become known as one of the greatest artists in the history of music. But at that time, few had heard of Dylan and his raspy voice and twangy guitar playing. Susman's band started playing with Dylan, backing him up on some songs, and Susman, who says the memory is a bit hazy, does have some recollection of Dylan.
"We had no idea, really, who this guy was," Susman, sitting on the second floor of the Westcott, said, stroking his salt-and-pepper beard. "I remember that he wasn't all that friendly to us. I think his mind was elsewhere. He was preparing to perform."
(Continued on Next Page)
Prev Next
Vote on this Story by clicking on the Icon