DeWitt — Paul Gasparini, principal at Jamesville-Dewitt High School, has been selected as the 2012 New York State High School Principal of the Year by the School Administrators Association of New York State.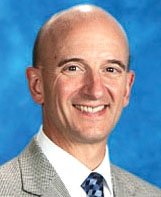 The award is given annually to a member of SAANYS and the National Association of Secondary School Principals who has set the pace, character, and quality of education for the students in his or her school. Nominees are administrators who are committed to students, parents, and the community and have shown exceptional contributions to the educational process.
Gasparini has served as an educator for 27 years including 17 years as a school administrator and 11 in his current position.
Gasparini was nominated based on his dedication, commitment, and ability as a school leader. Jamesville-Dewitt parent Mary Coughlin submitted a letter of recommendation for Garparini in which she described him as an excellent leader who is "extremely well-suited and impressive" as a high school principal. She added that the school under his charge is one where there is a dynamic sense of school spirit, where students are regularly recognized for their accomplishments and feel supported and safe.
Middle school principal Peter Smith agreed.
"Paul has established and maintains a school environment that reflects high expectations for students and staff by opening all courses to any student willing to challenge the curriculum," Smith said. "These changes have motivated students to attempt more difficult courses and to push themselves to succeed at a very high level."
J-D Superintendent Alice Kendrick noted Gasparini's positive relationships with staff, parents and students continue as a major strength and an important key to success.
"He is truly a dedicated professional leader who influences all around him to work toward being the best they can be," Kendrick said.
Gasparini is an active member of SAANYS in which he serves on the Government Relations Committee and the Assessment Advisory Committee; the National Association of Secondary School Principals; the Task Force for Teacher and Principal Evaluation; and chairs the Central New York High School Principals Consortium. In addition, he is an active member of the Fabius-Pompey Recreation Board, a den leader for Boy Scouts of America, and is a Lector in the Immaculate Conception Church.
Gasparini will be honored for his accomplishments at an awards ceremony on May 4 at the Century House in Latham.
Vote on this Story by clicking on the Icon