When we were kids my mom and dad would take us out for dinner and a show at Three Rivers Inn, up in Phoenix, N.Y. We heard top-shelf singers such as Paul Anka, Teresa Brewer, Brenda Lee and Nat "King" Cole.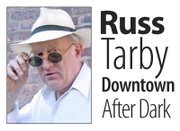 So when I heard that Joe Riposo recently composed a tune about Three Rivers titled "Through a Child's Eyes," naturally I recalled my childhood visits to the legendary CNY nightspot owned by the late Dom Bruno.
But that's not what it's about at all. It's about how the musicians in the house band maintained a measure of creativity even after playing the same songs for the visiting stars night after night after night.
"My brother Tony and I had the band out at Three Rivers for about seven years in the 1960s," Riposo remembered. "It was called the Tony Riposo Orchestra, and it was a great education for everybody because we'd back up singers like Tony Bennett, the McGuire Sisters and Frank Sinatra Jr. Each star usually had a ten-day run, and we'd play three shows a day and dance sets in between the shows."
Jazzy dance sets
The orchestra included cats like tenor saxophonist Sal Nistico who went on to become a driving force in the post-bop movement, and drummer Ronnie Zito, who went on to work with Bobby Darin. "The band was great," Riposo recalled.
The musicians had no trouble at all learning the book for all the headliners, but the real fun happened during the dance sets. They'd play jazz.
"Sal got a big kick out of playing those dance sets," Riposo said.
In 1957 and '58, Riposo had performed in U.S. Army bands with New Jersey born saxophonist Wayne Shorter, a gifted musician now acknowledged as jazz's greatest living composer. Anyhow, Riposo was inspired by Shorter's unusual harmonic environments. So when Riposo wrote arrangements for the orchestra's dance sets at Three Rivers, he'd incorporate Shorter's techniques, especially those unconventional harmonic structures.
(Continued on Next Page)
Prev Next
Vote on this Story by clicking on the Icon