Community Bikes has received an increased number of donations in advance of the annual Bike Day this Sunday, April 15, when more than 300 bicycles will be placed with families in Madison County who can't afford one.
Community Bikes coordinator Chuck Fox said that bike donations are critical to the success of the project. "We are extremely grateful to those individuals and organizations who donate their unused bicycles," Fox said. "They have the satisfaction of knowing that a bike that may be sitting unused in their garage will be enjoyed by someone in our community who wouldn't otherwise have access to a bike."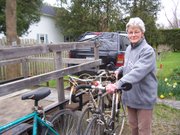 He also noted that, while the Bike Day is scheduled for this Sunday, bike donations are needed and welcome year round. Fox said the organization seeks bikes of all descriptions and for all ages, and that bikes should be in good to excellent working condition.
There are several drop-off locations around the county including the First Baptist Church in Chittenango, St. James Church in Cazenovia, St. Paul's United Methodist Church in Oneida, Community Action Partnership in Canastota and the Community Bikes workshop at 40 Milford St. in Hamilton. In some cases pickup of bikes can be arranged.
Community Bikes' annual Bike Day this Sunday will be held from 1 to 3 p.m. at the former Rite Aid building in the Northside Shopping Plaza on North Main Street in Oneida.
Bike recipients must be present and pre-registered to receive a bike. For more information, contact Community Bikes at 824-8210.
Vote on this Story by clicking on the Icon