"If there weren't people willing to volunteer their time, who is going to do it?"
— Patrick Rothery
continued — Each volunteer on the fire protection or EMT side saves municipalities thousands of dollars -- nationally, volunteers save the nation about $37.2 billion in costs that would have to be paid to career staff.
"People volunteering are saving millions of dollars," Davenport said. "If you didn't have the volunteers, you would have to be paying them."
Locally, nearly all departments in the county are volunteer. The departments are typically contracted through the village or town, assigned to a fire protection district.
"If there weren't people willing to volunteer their time, who is going to do it?" said Patrick Rothery, a Marcellus firefighter.
Community service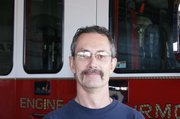 Volunteering your time in some capacity is an important role of any community member, said Bob Zysk, who has volunteered with the Fairmount Fire Department since 1975.
"That person we're helping could be my neighbor, my mother, my brother," he said. "I've lived here all my life."
The reason anyone walks through the doors at the department is constantly changing, but the reason they stay is the same -- community service.
"I love the feeling of being there for someone when they need you the most," said Fairmount Fire Department bunk-in Ian Herford, 20, of Aurora. He's living at the fire department as part of the bunk-in program at Onondaga Community College. The program brings students studying fire prevention technology to the fire houses, offering free room and board in exchange for volunteers at the station when fire calls come in.
While the majority of fire calls aren't structure fires, being there for the community during a vulnerable time is the root of the service, Nageli said.
"We never get called to somebody's birthday party. We get called to people's worst situations at the worst possible time," he said.
Vote on this Story by clicking on the Icon