Cazenovia — During the recent repaving of Burr and Williams streets, village employees unearthed a three-foot segment of original wooden water line, which was placed there and used sometime prior to 1890. As much of the existing water lines in the village of Cazenovia were installed around the same time period, local officials have begun to plan for the future of the community's infrastructure.
"Cazenovia is blessed with an abundant supply of excellent water," said village Water and Sewer Trustee Peggy Van Arnam. "Unlike some parts of the country, we never think about our water. When we need it, we just turn on the faucet. Except for those who are charged with keeping them open and repaired, we also give little thought to the pipes that carry that water to our homes and businesses."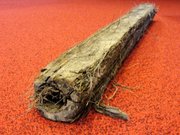 According to Public Works Administrator Bill Carr, 85 percent of the village's current water lines were originally installed between 1890 and 1898. Since then, wells have been drilled and storage tanks built to hold the water. New water lines have been added as development occurred, and some, but not all, of the original lines have been replaced.

The water line running down Albany Street was first installed in 1898 beside a dirt road — now it is under a state highway of concrete and pavement. Last year, there was a break in this line, and village officials said they cannot expect it to last forever. At an estimated cost of $50 per foot, the board acknowledged it will be extremely costly to replace the Albany Street line and other older lines in the village. Unfortunately, periodic water line breaks and repairs have become a regular fact of life for village staff.
At its April 2 meeting, the Cazenovia Village Board voted to establish a dedicated capital account to fund the replacement of old water lines throughout the village. Trustees said planning ahead will allow the village to be proactive, rather than suddenly be faced with huge bonding costs due to system failures in the future.
(Continued on Next Page)
Prev Next
Vote on this Story by clicking on the Icon