Camillus — West Genesee Middle School science teacher Daniel Howard has been accepted to attend "Honeywell Educators @ Space Academy," a program for teachers held at the U.S. Space and Rocket Center in Huntsville, Ala., this summer.
Honeywell Syracuse Program Director John McAuliffe and West Genesee Principal Earl Sanderson surprised him with the announcement and presented him with a flight suit at the beginning of an "FMA Live!" performance at the school on Monday morning.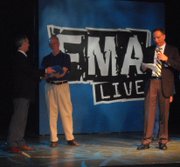 Howard was joined on stage by six former students and teachers who attended the flight academy.
"FMA Live!" is a touring hip-hop science education show that teaches middle school students about science and math by teaching Isaac Newton's three laws of motion. The show is on a 10-week, 20-city tour which included stops at West Genesee and Solvay Middle School on Thursday.
"Honeywell Educators @ Space Academy" is a program designed to provide math and science teachers with advanced teaching techniques and simulated astronaut training.
Vote on this Story by clicking on the Icon