SYRACUSE — If you were at Media Day at Alliance Bank Stadium for the Syracuse Chiefs on Wednesday afternoon, you would have thought Bryce Harper was the only member of the 2012 squad.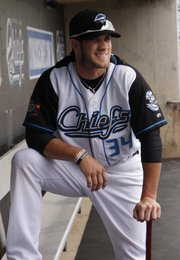 Swarms of reporters -- print, television and radio -- showed up seemingly to compile generic reports on the No. 1 overall prospect in all of baseball.
Overlooked in the hoopla was the fact that on Thursday at 2 p.m., another season of high-level baseball begins in Syracuse. And the roster is composed of much more than the former catcher who's learning the outfield.
Mitch Atkins will start on the mound. Last season, he started a total of 26 games with four different squads, compiling a 4-10 record. And he won't place much in the way of expectations on the team because he hasn't spent enough time with them all.
"It's still really early in the season, but it's always nice to get off to a good start," Atkins said when asked if he's nervous about starting the season.
Earlier on Wednesday the Washington Nationals announced John Lannan, who spent the last few years as a starting pitcher with the club, was optioned down to the AAA squad. Lannan was 10-13 with a 3.70 earned run average, and people inside the organization either didn't know why he was sent down, or wouldn't comment.
That could bode well for the Chiefs' pitching staff, as they have someone with an extended big league stay to learn from, a guy to look up to.
"I haven't talked to him yet," Atkins said of Lannan, who wasn't in Syracuse as of 3 p.m. on Wednesday. "I know he was here last year. I'm a visual learner, so I'll watch him pitch and see how he handles batters and then talk to him about that. That's probably the easiest thing for me to do."
(Continued on Next Page)
Prev Next
Vote on this Story by clicking on the Icon