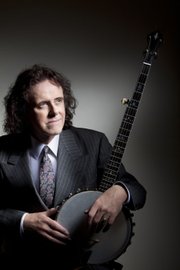 The Rock'n'Roll Hall of Fame nomination credits Donovan with "singlehandedly initiating the psychedelic revolution with his album 'Sunshine Superman.'" That groundbreaking LP heralded things to come, appearing one year before The Beatles' "Sgt. Pepper's Lonely Hearts Club Band," The Grateful Dead's debut and Jefferson Airplane's "Surrealistic Pillow."
Newcomers to the granddaddy of Syracuse music festivals include singers Gregory Porter and Cyrille Aimee and guitarist Diego Figueiredo.
"Greg and Cyrille are the best new male and female vocalists in the world right now," Malfitano said. "And Diego won the Montreux Jazz Guitar Competition in 2005 when he was just 20 years old!"
Global appeal
The 30th annual festival has a decidedly international flavor with artists from France (Cyrille Aimee), Brazil (Diego Figueiredo) Austria (Harri Stojka's Hot Club of Vienna) and Scotland (Donovan).
America will be well-represented by smooth jazz king Kenny G, Greg Porter, Billy Vera and his 17-piece featuring a Syracuse horn section led by saxophonist Joe Carello, original Allman Brothers Band percussionist Jaimoe and his Jasssz Band and five-time Austin Music Award-winning funksters Mingo Fishtrap.
Malfitano plans to announce one more major support act in a couple weeks. He thanked County Executive Joanie Mahoney and M&T Bank President Allen Naples for providing the financial support to produce the festival.
Local supporters
"The county has stepped up to the plate for a lot of years and obviously feel jazz fest is an event worthy of public-sector support," he said, "and M&T has been with us for 19 of our 30 years. Actually we've had great corporate sponsors, both large and small, for a long time."
For instance, he pointed out that National Grid (previously Niagara Mohawk) has contributed for 22 years, and the Liverpool Village Dental Group has been on board for a quarter-century. Radio sponsor WAER-FM has supported Jazz Fest ever since its inception at Song Mountain in 1983.
Vote on this Story by clicking on the Icon