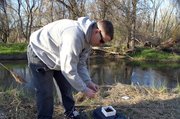 Camillus — A public access point along Nine Mile Creek was filled by local fisherman in the first week of trout season.
The location on Airport Road in Camillus runs along the creek, offering a stairwell and trails to access the creek about a mile north of Amboy dam.
"Before, it wasn't easy having to hike through the woods with fishing poles," said North Syracuse fisherman Chris Daniszewski. He and his cousin, Robert Precourt, of Solvay, were checking out the site for the first time Monday. It opened along with trout season on Sunday, April 1.
"We try out a lot of spots on Nine Mile, but we haven't had a lot of luck," said Precourt. "This looks a little better around here."
The point is located on property owned by Honeywell, the company who is spear-heading the Onondaga Lake cleanup project, and is one of two that Honeywell has opened. The second is on Onondaga Creek in the Tully Valley.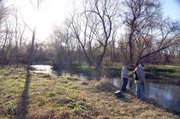 The community helped design the points, allowing for safe parking and access to the creek. Honeywell and the state Department of Environmental Conservation worked together in the fall to hold meetings where local groups could suggest ways to improve access, enhance safety and provide for a better fishing experience.
"Nine Mile Creek is recognized as one of the best trout fishing streams in this region," said David Tarr from the Iroquois Chapter of Trout Unlimited. "Providing public access in these unique locations will offer a better fishing experience and help provide an opportunity to educate younger generations about conserving fish habitats."
The Nine Mile Creek Conservation Council has helped design a trail to connect a forthcoming dock to the parking area. The new dock will allow for launching of canoes and kayaks on Nine Mile Creek.
"Providing public fishing access on Nine Mile and Onondaga Creeks reflects Honeywell's commitment to involving local community members throughout the Onondaga Lake cleanup," said Stephen Wowelko, president of the Onondaga County Federation of Sportsmen's Clubs. "Sportsmen have long wanted access to these creeks for fishing and other outdoor recreational activities, and now that vision is turning into a reality."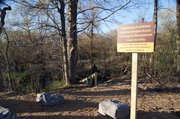 This summer, work will begin to fix forested wetlands, enhance stream conditions for fish spawning and migration, and to improve habitat conditions in the area of Nine Mile Creek closest to Onondaga Lake.
Nine Mile Creek runs north from Otisco Lake into Onondaga Lake.
Vote on this Story by clicking on the Icon