Cazenovia — At 1 p.m. on Saturday, March 31, Cazenovia College, in collaboration with SUNY Upstate Medical University, Cornell University and SUNY Environmental Science and Forestry, screened the documentary "An Ecology of Mind" in the Catherine Cummings Theater before dozens of viewers.
"I was told that the ideas were too abstract for film media," filmmaker Nora Bateson explained in her preliminary comments, "The whole world said I couldn't do it — and I did it!"

The film has garnered international fame, having won the Audience Choice Best Documentary award at the 2011 Santa Cruz Film Festival and the Best Documentary at 2011 Spokane International Film Festival. Bateson has toured with the film in Germany and plans to take it to the Netherlands. She has recently completed 27 shows in the U.K.

"An Ecology of Mind" is about the idiosyncratic work and ideas of the anthropologist and thinker Gregory Bateson — the filmmaker's father. The documentary explains Bateson's pioneering work in the interdisciplinary field of "systems."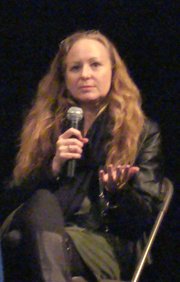 He and his colleagues coined the term "double-bind," and maintained that such catch-22 scenarios necessitated "the creative impulse." The documentary was narrated by Nora Bateson and combined the elder Bateson's own words, photography, and footage (he took 50,000 photographs in Bali alone) with animation and interviews with noted thinkers such as Fritjof Capra, Steward Brand, Tim Keanini and Jerry Brown.

Nora Bateson was motivated "to ask the question 'how do we know what we know?'" she said, adding, "Gregory had a way of looking for these invisible traps in our thinking, and then pointing them out to us. What Gregory saw was a unity, and he applied interdisciplinary language to approach it from different directions. The question in all this work is 'how does my perception inform my action?'"
Following the film, a panel discussion was held. Sitting on the panel were Rebecca King, assistant professor of psychiatry at SUNY Upstate Medical University; David Keith, professor of psychiatry at SUNY Upstate Medical University; J. Scott Turner, professor of biology at SUNY Environmental Science and Forestry; and David Salomon, assistant professor of architecture at Cornell University.

The audience was invited to pose questions to the panel. One query in particular, "What was Gregory Bateson's position on the nature of death?" sparked discussion.

"Death is a necessary part of a healthy system," Nora Bateson said. She went on to describe her father's death, which took place when she was 12. She described it as "a beautiful process."
More information on the film can be found at anecologyofmind.com.
Paul Shepard is an alumnus of Cazenovia High School and Bard College. He is a contributing writer at Eagle Newspapers and can be reached at paul.adams.shepard@gmail.com.
Vote on this Story by clicking on the Icon