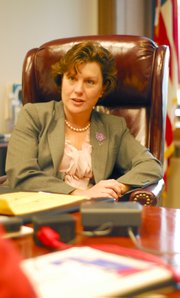 SYRACUSE — With a chill in the air and the young folks settling back into school, with festival tents wrapping up for storage and protestors gathered outside City Hall chanting opposition to the closing of a senior center, it seemed an appropriate time to give Mayor Stephanie Miner a pause for reflection on her performance so far in the city's top job.
My suggestion for a report card format — with names for subjects and a grading system varying from numbers and letters to other symbols of evaluation — initiated a pleasant and efficient negotiation of the interview process. I would name the subjects, she would provide a narrative assessment of her performance and the wording on achievement would emerge from the process.
Subject: Ecomonic Development
"With economic development, we really are the low man on the totem pole. Economic development is really a function of the region, and a function of state policies, and as we all know, New York State has policies which really hurt economic development upstate. We've seen these trends since 1950. We have worked very hard to have a regional focus on economic development, working very closely, sharing an office with the County Economic Development, and we've had some real success stories. There has been a burgeoning construction downtown, more cranes in the air in the past two years than people have seen in a long, long time.
We've seen tremendous construction and development up on the Hill. Despite a United States recession, the University Hill has really been blossoming. Part of it is you're fortunate enough to catch the trend at the right time, but also part of it is saying, 'We are going to live and die as a region.' So let's start making decisions that are regionally based and regionally focused. But ultimately, where I think we have done well is seeing development downtown. We know that a strong downtown will result in a strong city and a strong region."

(Continued on Next Page)
Prev Next
Vote on this Story by clicking on the Icon