Cazenovia — The Hot Club of Cowtown — the country swing combo featuring fiddler Elana James — laid down roots in San Diego and Austin, but when the threesome needed to name itself, Fort Worth was the city to make the moniker.
Why?
Because Fort Worth, also known as "Cowtown," was where Bob Wills began his reign as the King of Swing in 1929.
"I really admire Bob Wills for his vision and obvious relentlessness in developing Western Swing into a popular genre," James told an interviewer.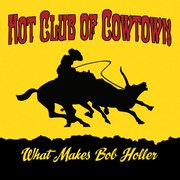 The Hot Club of Cowtown's new CD, "What Makes Bob Holler," is a spirited collection of 14 tunes made famous by Bob Wills and His Texas Playboys including "Stay All Night," "Time Changes Everything" and the classic ballad, "Faded Love."
Also featuring guitarist Whit Smith and bassist Jake Erwin, the Hot Club combo will perform at 8 p.m. on Sunday, Oct. 2, at the Catherine Cummings Theater, 16 Lincklaen St. in Cazenovia, following an opening set by Syracuse Area Music Award-winning guitarist Loren Barrigar. Admission costs $25, and a cash bar will be available.
While James gets most of the attention with her sultry vocals and sensational fiddle playing, Smith turns up the heat with his fiery fretwork. He strums a 1946 Gibson archtop guitar played through a 1937 Gibson amp, gear that gives him an authentic Swing Era sound.
"What people enjoy about us is that we're sincere," Smith said. "The music's got a lot of energy, and I think they like that."
On the new disc, Smith sings lead on "The Devil Ain't Lazy" as the band whoops it up behind him with some devilish call and response. Meanwhile, doghouse bassist Jake Erwin turns in a rollicking double-time solo on "Stay a Little Longer." On stage, the hyperkinetic Erwin proves quite the showman.
(Continued on Next Page)
Prev Next
Vote on this Story by clicking on the Icon