East Syracuse — The East Syracuse Minoa Central School District can now complete the sale of Heman Street School to Lakewood Development LLC of East Syracuse. The New York State Division of Housing and Community Renewal recently approved Lakewood's project application, notifying the company on Sept. 21.
The school will be converted to affordable senior housing.
"The successful approval and ultimate completion of this project is a win-win for ESM and the community," said ESM Superintendent Donna DeSiato. "Our taxpayers benefit from the cost savings by no longer having to maintain the building, the community is getting some much needed senior housing and the renovated building will also be put back on the tax rolls to generate revenue in the future."
The closing on the sale is expected in December. The ESM school board approved the $460,000 purchase in December 2010, but the project was delayed when Lakewood was denied state and federal funding during the first round of financing.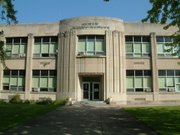 Susan Kimmel, president of Lakewood Development, estimates the project will cost $6 million and will result in 37 affordable senior housing units — 33 one-bedroom and four two-bedroom apartments — in the 47,000 square foot school building.
"This is a great reuse of a building that is already a centerpiece of the community," Kimmel said. The building will be renamed Heman Street School Apartments and the project will much of the original architecture.
The original Heman Street School burned down in the 1930s; the structure as it now stands was rebuilt and dedicated in 1939.
The building was last used as a school in December 2002 to house students while East Syracuse Elementary was being built. Heman Street and Kinney Street schools were consolidated into the new building after a citizens advisory committee found that it would be more cost effective to build a new school than repair and maintain the aging buildings, said Marcia Kelley, school information officer for ESM.
(Continued on Next Page)
Prev Next
Vote on this Story by clicking on the Icon