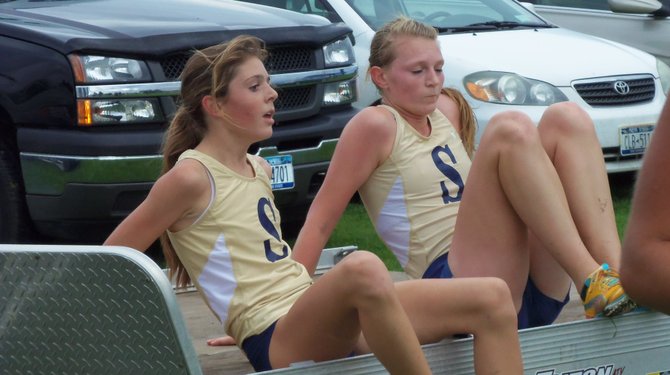 Skaneateles — With early speed and a daring attitude, the Skaneateles girls cross country team took off against OHSL Liberty division rivals Jordan-Elbridge and Solvay as they swept the top five places in the meet Wednesday at the Andrews Road Polo Fields, ultimately taking eight of the top 10 spots.

At that same meet, the boys Lakers, led by freshman Cooper Watt, improved noticeably from last year but were unable to break into either visiting team's top five.
Madeline Adams won her third consecutive meet with the third-best time in course history. The sophomore zipped around the manicured but wind-swept 3.05 mile course in 19:08 while the tandem of Morel Malcolm (20:25) and Virginia Hamlin (20:37) took second and third, respectively, in a sophomore-class sweep.
The senior/frosh duo of Julia Poorman and Jennifer DeRosa rocked the course to take fourth and fifth – Poorman in 21:22, DeRosa - 21:24 as both moved past a determined Solvay runner, Ashlee Riggins, down the long homestretch.
Beating both schools by identical tallies of 15-48 (low score wins) was accomplished by a re-worked Laker team that averaged 20:35 apiece for the top five runners, improving from 21:00 last fall.
Taking eighth place was Liz Dwyer in 21:48. The ninth-grader has shown significant improvement in each of the first three races this season and is gaining confidence with the completion of each challenge. Senior Shannon Byrne grabbed ninth place in 22:00 while junior Ellis VanSlyke took 10th in 22:11.
The boys were swept by both J-E and Solvay, as no Laker was able to break into the top five of either Liberty Division squad.
Behind Watt's 11th place finish in 18:13 was Ethan Johanns in 13th with a clocking of 18:23 which was a 39-second improvement from last year.
Sophomore Ryan Terhune took 14th in 18:35 while Danny Sakal took 15th in 18:50. Right behind by just tenths of a second was junior Matt Delasin to close out the team scoring. Delasin improved from last year by 29 seconds.
(Continued on Next Page)
Prev Next
Vote on this Story by clicking on the Icon