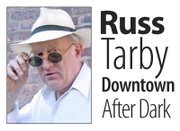 SYRACUSE — A relatively new Syracuse rock band named Two Hour Delay is rocking the socks off the rest of the field.
The brainchild of guitarist-songwriter Tim Burns, the quartet sees its snow-belt origins as a testament to its hard-won heartiness, strength gained from fighting fierce storms. Hence the band's name, Two Hour Delay, a familiar winter idiom in these parts.
Like the band's refreshing Upstate pride, its music – showcased on its new self-titled disc –exudes a verve and vitality lacking from the work of most aspiring rock'n'roll composers.
A couple examples:
"Reading the Obits" is a killer number with a clever premise, insistent rhythms and gritty vocal. "Tell-Your-Ride," on the other hand, soars on the wings of hot harmonies.
Help the band make a video
This Friday, Two Hour Delay will play Kitty Hoynes in Armory Square and they're asking fans to bring a smartphone or video camera to help record their newest music video.
"Sometime shortly after 10 p.m. when things are rolling, we'll ask you to bust out your favorite/convenient video recording device and capture the band from whatever angle you'd like," said guitarist Tim Burns in an email newsletter. "We'll [play] a 2HD original (or two, yet to be determined). Afterwards, we'll make arrangements to collect the footage in exchange for 2HD merch."
Amazing Americana
Two Hour Delay's musicians and singers skillfully employ a wide variety of effective musical approaches...musical craftsmanship may be the meat, but variety is the spice! Other fetching tracks include "Back to the Flatlands," "Satchel Says" and "Seed."
Deftly blending influences from blues, folk, country, bluegrass and good ol' rock'n'roll, Two Hour Delay has produced a dynamic disc of amazing Americana.
Besides Burns, the band features electric guitarist Bob Gaus, bassist Tom Mattern and drummer Brian Welch. Live, the band performs a mix of strong original music as well as tasty covers.
(Continued on Next Page)
Prev Next
Vote on this Story by clicking on the Icon