DeWitt — OASIS is a national education organization dedicated to enriching the lives of adults 50 plus by offering programs in the arts, humanities, health, history, and technology. The Syracuse chapter of OASIS is celebrating its tenth anniversary. It is sponsored by Upstate Medical University and has more than 8,000 members from throughout Central New York.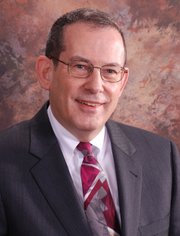 One of the many popular instructors at OASIS is John Langdon, long time professor of history at Le Moyne College. Langdon is nationally acclaimed and has recently received the Distinguished Educator of the Year Award from the Central New York Council for the Social Studies for his service to education. His class at OASIS, "An Overview of World Affairs," deals with two questions: 1) What really happens in world affairs behind the headlines? 2) What information do we need to understand and interpret current events? Langdon devotes time in the class for a substantive question and answer period, which is always lively and informative.
OASIS is located at 6333 State Route 298, next to the Double Tree Hotel off Carrier Circle. For membership information and a free catalogue, call 464-6555.
Mel Rubenstein is a public relations volunteer for the Syracuse chapter of OASIS.
Vote on this Story by clicking on the Icon