DeWitt — A New York City man has been charged in a fraudulent tax refund check scheme that targeted residential addresses in the town of DeWitt, DeWitt Police Chief Eugene Conway said.
Jeffrey Carvajal, 19, of the Bronx, New York City, is accused of stealing mail from a Thomas Road address. He was charged with petit larceny and released to reappear in court on Oct. 11.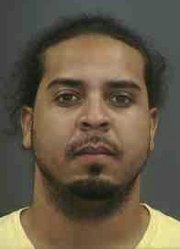 DeWitt Police officers were called at around 1 p.m. Monday, Sept. 26, to Thomas Road. A witness who was performing work on a house across the street saw a vehicle driving up and down the street repeatedly, DeWitt Police said. Shortly after a postal worker placed mail in the mailbox, the witness watched as the same vehicle stopped in front of the residence and a man got of the vehicle, took the mail from the mailbox and left in the vehicle. The witness called 911 after checking with the resident at the address to verify that no one had permission to remove any mail.
Sgt. John Anton observed the vehicle, as described by the witness, parked near a dumpster at the rear of a business at the corner of East Genesee Street and Jamesville Road. One of the vehicle's two occupants was identified as the same person seen taking the mail.
A second vehicle was stopped by other DeWitt officers within sight of the first vehicle. The two occupants of that vehicle were found to be connected to the incident and to the other suspects.
All four were taken to the DeWitt Police Department where they were interviewed by US Postal Inspectors. Police recovered what appeared to be federal tax return checks addressed to several addresses in the town of DeWitt, however none of the documents were addressed to anyone living at those addresses, police said.
Also participating in the investigation was the Internal Revenue Service. Further investigation was turned over to both the IRS and US Postal Inspectors.
Chief Conway credited the citizen who observed the incident for his alert actions and asks anyone seeing similar suspicious activity to call 911.
Vote on this Story by clicking on the Icon