DeWitt — The long abandoned gas station on the western border of DeWitt is finally no more.
Town of DeWitt Highway Department employees began salvaging recyclable materials from the old Citgo gas station that sits on the border of DeWitt and Syracuse at 2301 E. Colvin St. Thursday, and demolition began Monday morning. The gas station, formerly owned by the Alaskan Oil Co. of Syracuse, has been vacant since closing in 2002.
The town purchased the property for about $37,000 in back taxes. 

"We picked up the parcel for back taxes over a year ago, and that process was a lengthy one, but the parcel's been an eyesore and a blight to the neighborhood and surrounding community for almost a decade," said DeWitt Town Supervisor Ed Michalenko. Highway department foreman Rocco Conte, who oversaw the demolition, said that while acquiring the property and lining up the demolition was a lengthy process, "cleaning up the mess isn't taking long at all." He expected debris from demolition to be cleaned up by Thursday.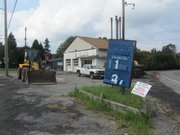 Chris Santay, owner of Drumlins Dental Arts at the corner of East Colvin Street and Julian Place, is excited to see the building go. When he opened his business next to the gas station in 2001, the Citgo was fully functioning. Since its closure he's watched the building deteriorate and become covered in graffiti, resulting in multiple re-paints. .
"It's gonna be such a relief to drive down Nottingham Road and be able to see the office and not have to look past that rundown gas station," Santay said. "I think it'll be great for the businesses and the people that live in this area."
Since the gas station's closure, the DeWitt planning board determined that the property was too small to host a viable business entity and presented traffic and safety concerns for redevelopment, Michalenko said. He said the property's small size made it a tough sell for the former property owner. It also lacked sufficient parking and safe egress and exit.
(Continued on Next Page)
Prev Next
Vote on this Story by clicking on the Icon