Skaneateles — More than 100 people turned out for the Skaneateles Town Republican Party's candidate meet and greet on Tuesday, Sept. 20, at the Sherwood Inn.
Present at the event were candidate for Onondaga County legislature district 6 seat Mike Plochocki, NYS Supreme Court fifth judicial district justice candidate Erin Gall, Skaneateles town justice candidate Kathleen Dell, Skaneateles Town Supervisor Teri Roney (unopposed), Skaneateles Town Councilor Jim Greenfield (unopposed), Onondaga County Comptroller Bob Antonacci, Onondaga County Republican Party Chair Thomas V. Dadey, Jr. and Cayuga County Conservative Party Chair Greg Rigby.
Also at the event were local Republican office holders such as Mayor Marty Hubbard, Town Clerk Janet L. Aaron, Town Councilor Rick Keyes.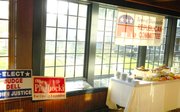 All the candidates who attended gave brief remarks about their campaigns and about getting out the November vote.
"We're off to a good start [for the election season], and we're excited by the enthusiasm," said Jim Lanning, member at large for the town GOP committee, who helped arrange the event. "In village and town elections, you have to generate enthusiasm and get your vote out, and that's what this event is all about."
County legislature candidate Plochocki, sporting an American flag-colored tie, was excited as he shook hands and made conversation around the room. "I live in Marcellus but have had a camp in Skaneateles for years and years, and I definitely have a connection to Skaneateles and feel a part of this community," he said.
On the other side of the aisle, the Skaneateles Democrats will hold a public meeting/Octoberfest celebration at 7 p.m. on Tuesday, Oct. 18, at the Skaneateles Community Center, during which they will present their candidates for the November local and county offices.
Vote on this Story by clicking on the Icon