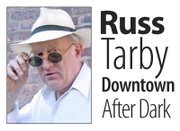 SYRACUSE — It's no easy feat to hit a home run at the Burnet Park softball fields, but Big Ed Zacholl routinely whacked 'em over the fence. In fact, a Tipperary Hill neighbor claims Big Ed once drove a ball all the way to Monkey Island in the Burnet Park Zoo.
But his hitting prowess paled compared to his pitching. He was nearly un-hittable.
One of his old softball buddies — Jerry Wilcox, who became a coach at Bishop Ludden High — recalled stepping up to the plate against Big Ed.
"I could hit the drop, but I could never touch the rise," Wilcox whined.
Another old opponent opined, "When you batted against Big Ed, you were happy if you could just foul one off!"
Diamond dominance
Six and a half years ago Big Ed died at age 72, but on Tipp Hill he's well-remembered for his diamond dominance on various neighborhood fast-pitch teams. And, to a slightly lesser extent, for his love of good grub, good suds and good tunes.
"When he sang, he had a voice like Burl Ives," recalls his namesake, Z-Bones bandleader Eddie Zacholl. "He sang all the old standards around the house, all the old show tunes, and he let me stay up late to watch 'Elvis Presley, Aloha From Hawaii, Via Satellite' when I was, I think, about 8, which really floored me at the time," his son said. "He loved the bands I was in. In his later years, he knew I had a thing for songwriting, and once in while he'd slip me a piece of paper with a song he wrote — I still have them. Then he'd say something like, 'Keep that in your back pocket, kid, in case you run out of material.' What a character!"
Big Ed Special
In fact, Big Ed was such a character that his legacy of laughter lives on as a daily special served at a local diner. Mike Tassone, the owner of Liverpool's American Diner, named a humble lunch platter in honor of a man who meant the world to him. It's fried bologna and cheese with french fries, for $5.29, The Big Ed Special! (The diner is kitty-corner from Heid's, at 314 Old Liverpool Road.)
(Continued on Next Page)
Prev Next
Vote on this Story by clicking on the Icon